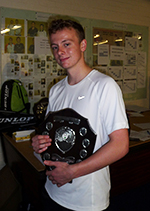 Photograph of Joe receiving the BU19 Oxfordshire Closed Trophy.

Joe began playing squash at Abingdon when he was 11, he is now 18 and in his last year as a junior. He was initially coached by Ross Gore and then by Guy Tupper, who was the Abingdon coach for several years. Joe has been BU19 champion since he was 15 and SE Regional champion since he was 16; he has played for the ASRC first team regularly for the last 4 years.

Joe has been a member of the England training squad since the age of 14, and reached number 4 in the country as an U15 and number 3 as an U17. He has won several tournaments in the UK and Europe and has represented the County as a junior and a senior player.

Joe is now a student at the University of the West of England, (UWE), in Bristol, which is one of the top squash universities in the UK. He has a sports scholarship and this should enable him to further develop his game as he will be playing against some of the best in the country. His ambitions are to continue to improve so that he can win some major adult tournaments whilst studying for his degree.